We started off our weekend sorting the garden out after surviving the biblical flooding of 2019. We managed to keep the kids entertained for the morning while we got this task done.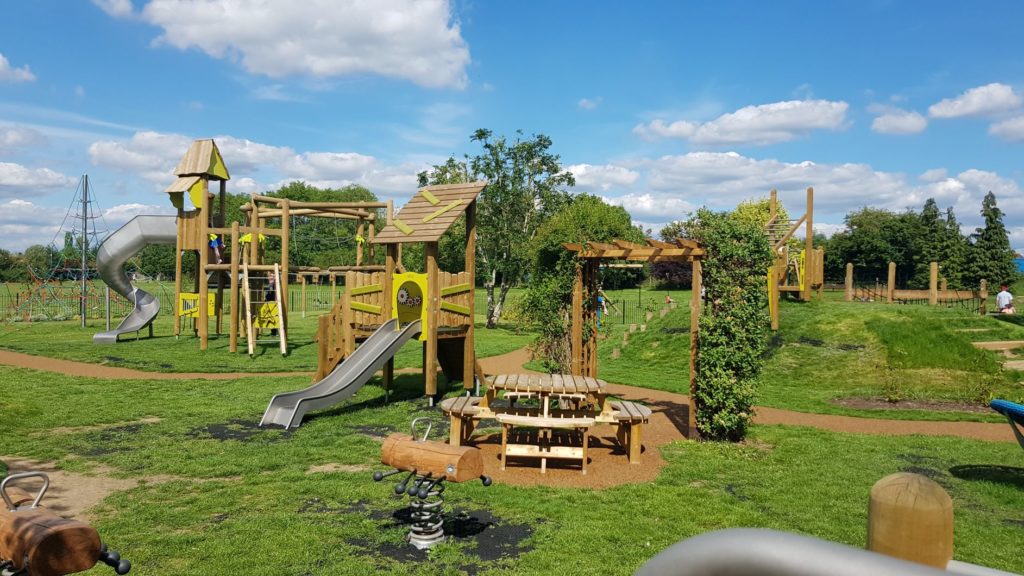 It wasn't long after lunch that we realised our luck with the kids was up. We needed to head out for all of our sanity. So i got out my little black book which isn't actually black at all its multicoloured and sequinned. Anyway its the list of all the places i need to visit. Next up was Crowsmarsh Gifford play park.
Where Is Crowsmarsh Gifford?
I had no idea where it was to start off with. Even though I took A level geography I still have fuck all idea where I am half the time. Thank god for google maps. A quick search and i realised it was near Wallingford.
So its a bit of a beast of a drive from me (Bicester) Just for a play park but we needed Elliot to have a nap. He was turning into a bit of a dick. The 40 min drive was a good opportunity, plus it was sunny and half the day was already gone anyway.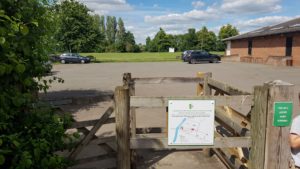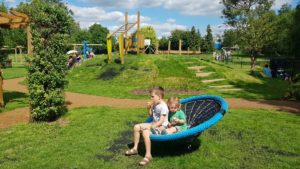 The drive there was easy enough and it didn't take long to realise it was right next to the splash park that we came to years before when Clark was little…er.
We Parked up by the riverside park and pools wondering where the play park was. It was around 3pm and turns out parking is free after 3pm anyway (Whoop). By this time the kids had spotted the splash park and there was no escape. We would have to go in at some point.
Finding Crowsmarsh Gifford Play Park
Managed to bribe the kids with an ice cream to hunt down the play park first because it was no where in sight. Out comes google maps sat nav again. I love that you can change the option to show that you're walking and not driving. I get lost a lot so its perfect for me.
Turns out that Crowsmarsh Gifford play park was on the other side of the new houses. You'll also be happy to know that it has its own free car park too. If you park here then you wont get stung into taking the kids to the splash park if you don't want to.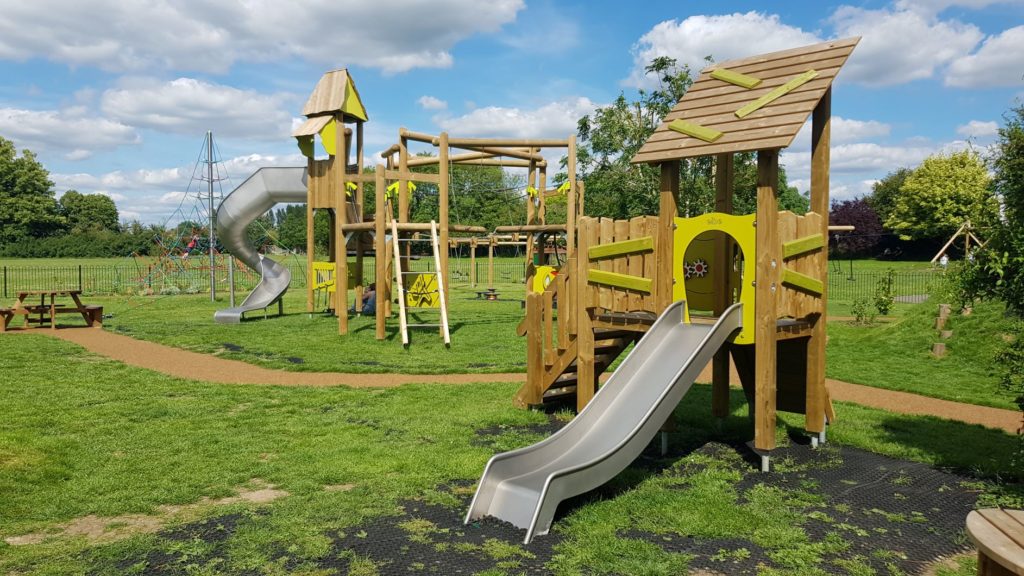 Guess what else i spotted to? They have a toilet!!! now i don't know if its always open but it was open when we visited on a Saturday afternoon. Not that we used it in the end anyway so i cant say if its like walking into a horror scene or not.
Whats Crowsmarsh Gifford Play Park Like?
The play park wasn't overly busy at all. There were a fair few families but nothing that made my eye twitch. Its a brand new play park by the looks of it and from first impressions a pretty decent one too. Husbeast wasn't convinced to start with. He said it looked like the same designers of Garth park. Thankfully he was wrong…..well the part about it being shit anyway.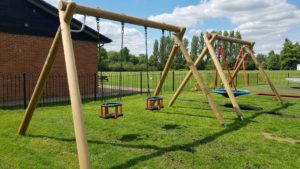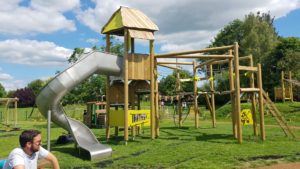 Its a fully fenced play park which is always a bonus for smaller ones that like to make a run for it. Its not near any main roads either so just the car park to be weary of.
Also surrounded by lots of grass (some people would say a field haha). Luckily we had brought the Frisbee and a ball today too. Even if we are the family with the shittest hand eye coordination doesn't mean we can't have fun trying though.
Equipment In The Park
Crowsmarsh Gifford play park itself is rammed with equipment. There is no doubt in my mind that there is something for every age.
The main climbing frame is at the centre of the play park and its an arse clencher. This is not a frame for the younger ones at all. Luckily Elliot couldn't reach the parts to climb anyway. I did help him up the ladders for the spiral slide though.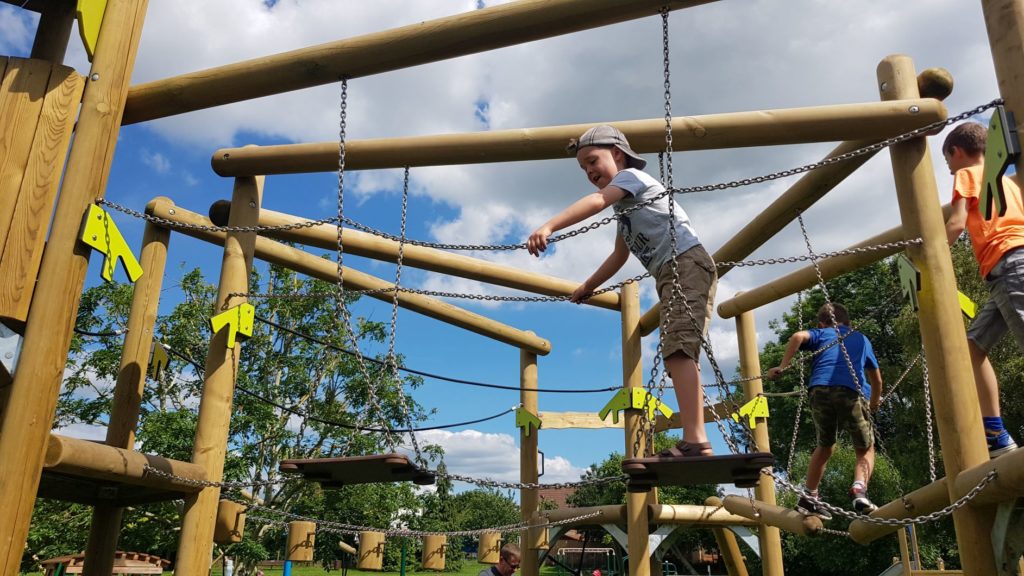 Clark was fine getting up and around though. Even them my arse was in my mouth. It's a bit of a drop if he fell and i couldn't be doing with another visit to A&E with a fucked collarbone again. I stayed underneath him ready to catch him but he was fine. I was just being dramatic i think.
Its an impressive frame though and i think the older kids will love it too. Its a shame that the spiral slide is so hard to access though because kids love a good spiral slide.
Whats There For Younger Kids?
There's loads to do for the younger kids still including their own little frame with a slide and cogs to turn etc. You'll find some springy face twatters, a large walk on seesaw, cargo roundabout and all the swings to one side/corner of the park. To me it looked like the toddler area. There was even seating for parents too.
on top of the hills is another really nice area for all ages. There's a nice swing bridge between the two hills and an extra wide slide too (perfect size for my arse) In total there are 3 slides in the play park.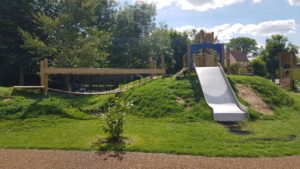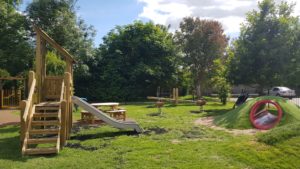 When we visited it was bloody hot. Sounds great right? Wrong. Being as it was so hot all of the slides were unusable. Why? because they're made from metal, A conductor of heat, Deeming them fucking useless on sunny days. As i like to call them "Thigh Melters" Pop your kid on them with shorts on and they'll come down screaming because they left their thighs at the top of the slide after being melted off.
I get why they put them in. Its because they last longer but honestly its pretty annoying. Luckily we live in the UK so its not sunny that often so its not all bad i suppose. Just make sure you check first because i shit you not they were hotter than the sun to the touch.
More Equipment
In one of the corners of the play park you will find the ring of swings which is turning into one of my favourite type of swings. Its lovely because all the kids can face each other and have a chat while they're on the swings.
Next to that you have the large bouncy see saw thing with the seats that you get on the zip wires. Talking of zip wires there's an awesome double zip wire which the kids had a great time racing each other on. This is outside the park fence though which is great! means less toddlers run into the path of the older kids zipping past.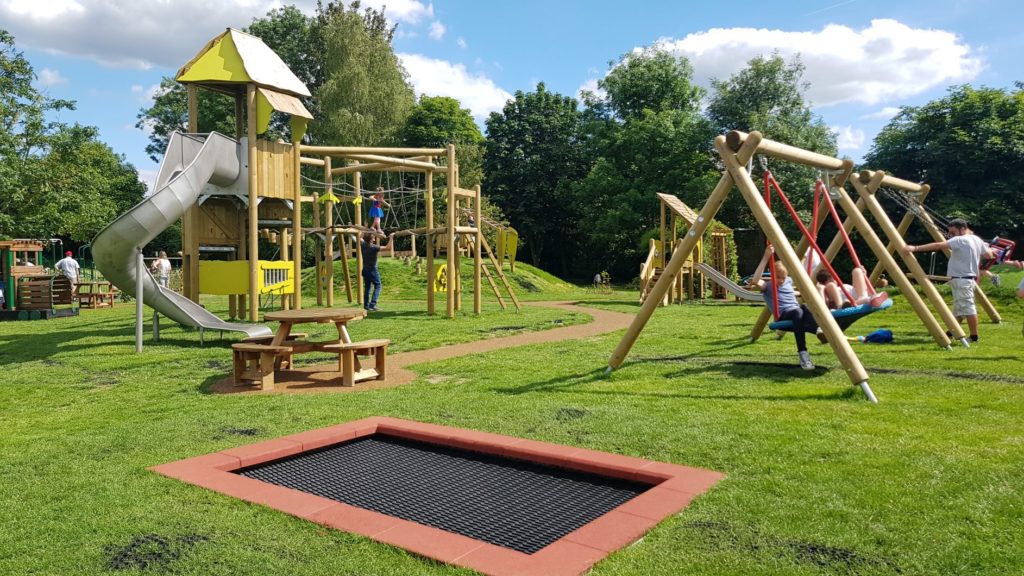 I did find an unusual piece of equipment too. The springy ankle snappers. Basically stepping stones with springs. A sister to the springy face twatters. These lead to a lovely wooden little toddler train for imaginative play too.
In yet another corner you have Clark's favourite…The trampoline. Its always a successful park if it has a trampoline in his eyes. Next to that you have the spinning disc and the huge cargo web which he wont go on any more since he fell off the one in Combe park and broke his collarbone.
Crowsmarsh Gifford Play Park Stats:
Distance from Bicester: 43 mins
Sat nav: 2 Benson Ln, Crowmarsh Gifford, Wallingford OX10 8EB Click to load sat nav
Wheelchair friendly: yes
Equipment upkeep: 10/10
Cleanliness: 10/10
Facilities: Toilets
Age range: all ages
Safety: 8/10
Fun factor: 10/10
Dog friendly: Not in the park but ok in the surrounding fields
Pushchair Friendly: Yes
Bikes and Scooters: Yes
Conclusion
We had a great time playing at Crowsmarsh Gifford play park and then using the fields for a throw about. I can see us visiting here a lots especially when the weathers good.
After we finished in the park we headed back over to the splash park. The kids had an amazing afternoon and if it wasn't so late we'd have stayed longer but we needed to feed them.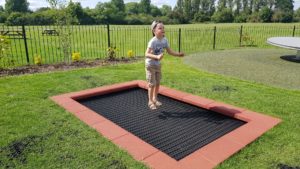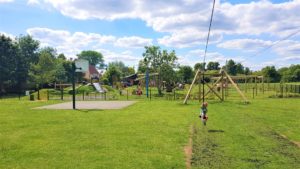 We didn't go prepared for the splash park but we just let them go in fully clothed and they were fine. Luckily we had a couple of Elliot t-shirts for them to both travel home in. Thank fuck we didn't get pulled over. Would have been fun explaining the 2 half naked boys in the back of the car.
I would 100% recommend anyone make the journey. Not just for the park but for the whole day out including the splash park. It cost us a grand total of fuck all and it was one of the best days we've had for a while. Take a picnic and the max you'll pay is parking and even that was still cheap. Free even if you're just visiting Crowsmarsh Gifford play park.
AOB
If you know of any play parks you think I should review then pop me a message on the Facebook page HERE
For a list of all the other play parks I've reviewed then check them out HERE