The day didn't really go according to plan. We ended up visiting 2 national trust sights because the first one we went to wasn't great for our little winge bags today. (probably tired from their 5am wakeup!). However then we found Cliveden and all was good with The Family ticket kids again.
Hughenden manor
I'll tell you all quickly about the first venue. Hughenden manor, now i don't want to go slagging it of because its really lovely and on a better day it could be great. However the kids just weren't impressed. For once i blame myself, I promised them a big park. I fucked up there was a small park (really cute natural one) and one big house (Which was shut) in some gardens.
I know some of you have those idealistic kids that enjoy being dragged around houses looking into history. Mine don't and if I'm being honest nor do i. I'm not a history buff i generally find it boring so I'm not going to moan at the kids for finding it boring either.
I remember being dragged around these places bored out of my mind when i was younger by my parents. It not until i have aged like a fine cheese that i have started to appreciate all the places we went to. Kids want a play area and fun so that's what we did. We packed them back in the car shoved some foo in their gobs and went half hour down the road to Cliveden on a hunt for some fun.
Cliveden
Cliveden is awesome. We didn't even get to do half of it because of the earlier balls up. At the moment I'm undecided on if i like it more than Waddesdon manor. The only way i can possibly decide is if me and the husbeast go back Friday while the kids are at school. So that's what we're doing….Purely for research purposes of course.
Parking was a piece of piss and right by where all the kids bits are. You'll find everything you need facilities wise here. Only slight niggle was there was no indoor seating at either of the cafes we saw. The indoor cafe is over by the house. As usual the cafes are fecking expensive. which is why i packed a shed load of snacks.
Picnic
Take a picnic there are so many benches to chose from in different areas its like they're begging you not to eat in their cafe's. We went to the dolls house cafe by the play area and they had a really cute tractor and train in their garden. My two picked the train to have their drinks at.
Cliveden Maze
The first point of call was The Cliveden maze. Yep that's right they have a maze. Clark was super excited he loves mazes. Who doesn't? i remember as a kid going to these big houses and always asking mum and dad if there was a maze. You can judge how good a place is as a child on whether it has a maze.
The maze was cool. Not as big as the Blenheim maze but equally as fun and easy to get lost. As a family we're all a bunch of piss takers really. We took great pleasure on the way back out telling all the other maze hunters that the way they were going was a dead end. Hahaha so funny watching them turn back round when they were so close the the end.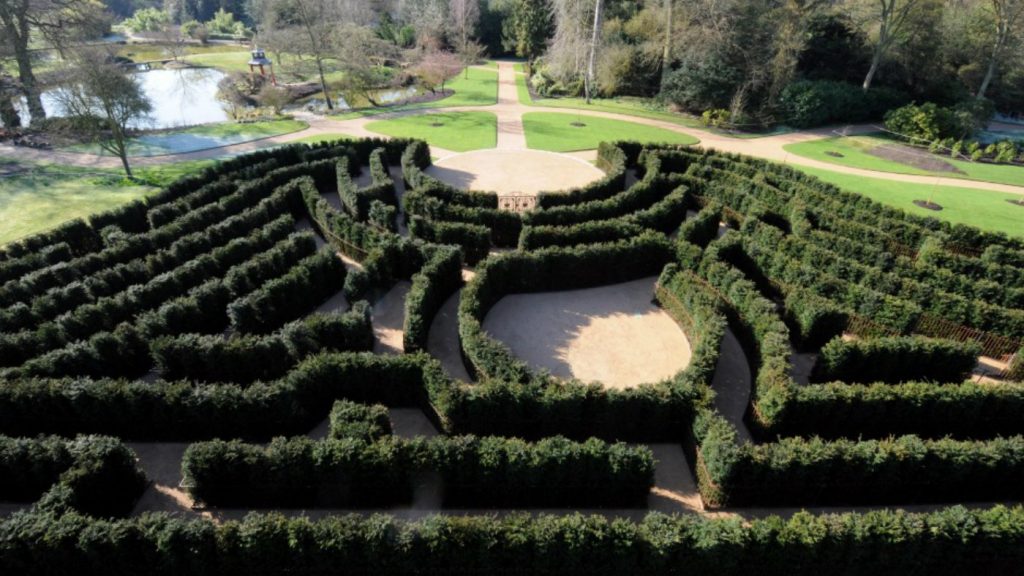 After a while in the maze and unless you're some kind of basset hound that can sniff their way out then you will take a while in there,. We headed over into the water gardens.
Water Gardens
You cant miss the water gardens because funnily enough there's loads of water. We managed to stop and watch a Heron fishing in the pond/lake. The kids really liked watching the fountains and stomping on the molehills in these gardens.
Normally you can get up closer to the water and there are stepping stones for them to navigate over. Due to the wet weather and cold they had shut a few of the paths for safety reasons. This suited us just fine. Elliot was in the wars today. Lost count of how may times he'd fallen over. I didn't fancy going all Pamela Anderson in the middle of Cliveden and jumping in the lake to fish him out either.
Storybook Play Den
On the other side of the Gardens you will find the Storybook play den aka the play park. What a lovely little park this is. By no means is it a scratch on the likes of Waddesdons play area in terms of size but it more than makes up for it in quirkiness.
If you couldn't tell by the name its a story themed play area. You'll find lovely little characters all over the place from Hook out of peter pan to Winnie the pooh, the hungry caterpillar, Wind in the Willows and even a troll Under a bridge. Clark loved shouting "who's that trip trapping over my bridge". There really should be a story that your kids will recognise. If not read them one before you go it'll add to the excitement of the place.
Next to this play area is where you will find the dolls house cafe. Lots of seating outside but none inside. It looks like they have a story corner inside which is maybe used during the week for schools or groups.
Heading Home
After the kids had a play around and a hot chocolate it was time to think about heading home. They had another run through the gardens and saw some of this years first snowdrops. We had a quick nosey at the house from a distance. The boys fed the ducks their left over bread sticks which we now know is Ok so shit off with your duck feed bollocks.
I had a final pit stop at the toilets and the shop which is where i found the really cool book of 50 things to do before your 11 + 3/4. i picked up 2 of the books on for the boys and one for one of my readers to win. You can find the link here to enter if you haven't yet CLICK ME (Check the date to make sure it hasn't ended)
Cliveden stats:
Distance from Bicester: 51 mins
Sat nav: Cliveden Rd, Taplow, Maidenhead SL1 8NS
Wheelchair friendly: yes
Equipment upkeep: 10/10
Cleanliness: 10/10 really was spotless
Facilities: 10/10 cafes are expensive though
Age range: all ages
Safety: 8/10
Fun factor: 10/10
Dog friendly: Yes in most areas.
Conclusion
For us this day ended really well. Its a shame we didn't go here first as we would have had more time to explore the house and grounds. We will 100% be going back again and would highly recommend it to anyone.
The fact that we're national trust member's too has made it even that bit better because it has kept the cost of visiting to a minimum. So far since we have been national trust member's we have more than received our moneys worth. If you're on the fence about becoming members do it!
If you have fur babies (dogs not just hairy kids) then you can take them to most National trust sights too. Cliveden is no exception dogs are welcome. Just pay attention to the areas where they wont be allowed like the maze and the children's play area.
AOB
If you would like to have a nosey at what else they have their and see the bits we missed (lots) you can do so on their website HERE
If house and gardens are your thing have a look at some others that we have visited HERE